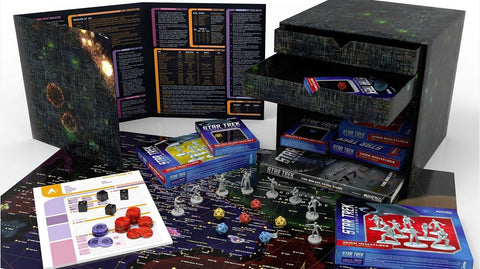 Borg Cube Limited Collector's Edition: Star Trek Adventures RPG
Resistance is futile!
The Ultimate limited edition collectors set for your Star Trek Adventures tabletop role-playing game. This MASSIVE cube contains a whole host of accessories for the Star Trek Adventures game and includes the '1701-D' collectors edition core rulebook. Modelled on the Borg, the cube is an incredible limited edition product for hobby gamers and Star Trek fans alike.
This Wave 1 Limited Edition Borg cube set contains:
Star Trek Adventures Collector's Edition "1701-D" core rulebook
Four sets of Star Trek Adventures 32mm scale miniatures:

The Original Series crew
The Next Generation crew
A Klingon warband
A Romulan strike team

3 sets of custom Star Trek Adventures dice by Q-Workshop containing:

3 Command red twenty-sided dice
3 Operation gold twenty-sided dice
3 Science blue twenty-sided dice
12 six-sided Challenge Dice

A set of laser engraved acrylic tokens: 6 Momentum tokens, in blue with the Federation emblem, and 20 Threat tokens, in red with the red alert display.
A pad of 50 reversible, colour character sheets, with character details on the front and starship details on the back.
A deluxe poster of the Alpha and Beta Quadrants.
A foam tray by KR Multicase with 40 compartments for the Star Trek Adventures 32mm scale miniatures, enough for all 4 sets contained in the cube, and then some!
A digital PDF bundle including the core book, plus the PDF's of the Command, Operations and Sciences division books, plus the Alpha, Beta, Gamma and Delta Quadrant books as they are released. Customers can access this by providing the holographic cube number.
An exclusive 32mm scale miniature of Lore
An exclusive giant "Borg" Edition Games Master Screen
Each Borg Cube is uniquely numbered with an official Star Trek Adventures hologram
 
The cube itself has a sleeve compartment for the core book, storage space for future hardback books, and a tray for all your accessories and features.