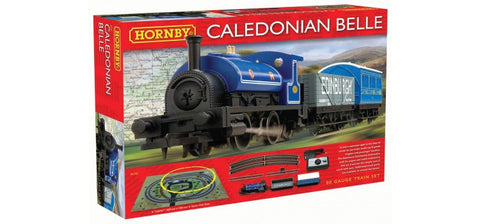 R1151 Caledonian Belle Train Set
The halcyon days of British Railways were at their best when the numerous small branch lines criss-crossed the British countryside linking the small towns to the outside World. This Caledonian Belle set emulates these small local trains with the smart 0-4-0 locomotive which makes easy work of hauling the 4 wheel coach and wagon around the oval of track included in the set.
The set includes a MidiMat on which the track included can be placed. Additional Track Packs and accessory packs can be added to extend the layout to a fully functioning model railway.
Caledonian Railways 0-4-0 locomotive
4 wheel coach
Open wagon
3rd Radius starter oval
P9200 wall transformer
R8250 Train Controller
Power Track
Hornby MidiMat (1600 x 1180mm)
---
We Also Recommend